LEGO® space challenge cards
are a great way to get kids fired up over STEM. Follow the prompts to complete the space build using the LEGO® you already have. Maybe the kiddos will even invent their own challenges!
LEGO® SPACE CHALLENGES FOR KIDS
LEGO® is one of the most awesome and versatile play materials out there. Ever since my son connected his first LEGO® bricks, he was in love.  Usually, we enjoy tons of 
cool science experiments
together so here we have mixed science and STEM with LEGO® building ideas.
LEGO CHALLENGE CARDS
As you may know we LOVE everything STEM, science, and slime related here.  So we have combined that with LEGO® for AMAZING learning and playing experiences!  Looking for things to do for the kids at home, LEGO is the perfect activity for kids of all ages.
The benefits of LEGO® are numerous. From hours of free play to more complicated STEM projects, LEGO® building has been encouraging learning through exploration for decades. Our LEGO® activities cover so many areas of learning that are great for preschoolers through to the early teen years.
LEGO SPACE IDEAS
If you've been wanting an easy playful learning activity to share with your kiddos, you are going to love this space theme building activity. All you need to do is download our free printable LEGO space challenges below, find some basic bricks and get started! These
LEGO challenge ideas
go a step beyond the basic challenge cards because they offer a special task to complete!
These LEGO challenge cards each feature a space theme build and a specific building task! Read the task and complete the LEGO challenge idea.
Race a friend or sibling. Who can complete the challenge the fastest?
NEW! Just added LEGO Space Challenge Calendar!
LEGO SPACE BUILDING IDEAS
Download and print the LEGO space building challenges below.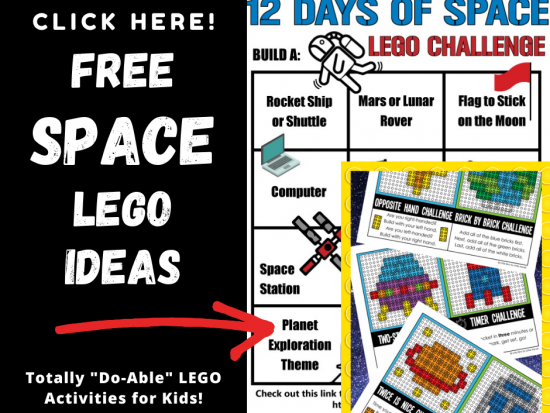 MORE FREE LEGO CHALLENGES
TRY THESE AMAZING LEGO SPACE  CHALLENGES TODAY!
Click on the link or on the image for more fun LEGO activities.
Who has an astronaut fan or a solar system fanatic? Grab that big box of LEGO® and get ready for a whole new set of LEGO® challenges today with a space theme. These